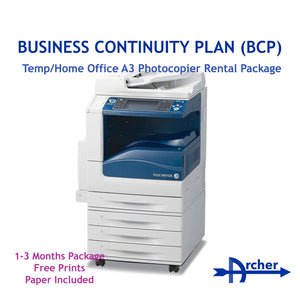 Activated by your company's Business Continuity Plans (BCP) to work off site? Need a temporary photocopier to continue operations during the BCP period? 

The Archer BCP Photocopier Rental Package will solve this issue. We have BCP photocopier packages from 1 month - 3 months. 
To book a photocopier, please enter your date to commence renting and select the duration.
This is for 1 unit of Photocopier with the following specifications: 
1) Copy, Print, Scan, Fax
2) 35ppm Duplex 
3) Up to A3 Size
4) Print Resolution: 1200 x 1200 dpi
5) Scan Resolution: 600 x 600 dpi

Package includes 500 BW Prints & 500 Colour Prints. 2 Reams of A4 Paper. Should you exceed your package print additional charges of BW - $0.02 per copy & $0.20 per copy.

Delivery, Setup and collection is inclusive in the package.
Our standard setup and collection is from 10am - 5pm daily.
Once your rental package is booked and paid for, we will follow up to set your photocopier up for you.